iPad Pro Stands and Mounts - Secure Lockable Enclosures
---
Stands and Mounts for the New iPad Pro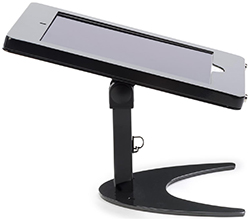 Need a modern, interactive display for a retail outlet? These iPad Pro stands and mounts are ideal for a number of different uses in not just shops, but service organizations, schools and offices as well. These units feature devices in a way that they can be used by either employees or customers, teachers or students, wait staff or patrons. Each of the iPad Pro stands and mounts, or Apple® tablet enclosures, has a secure yet open design that prevents theft while keeping them easy to use. In addition, these locking touchscreen holders are available as floor stands, countertop units and wall mounts to meet the needs of any business. The iPad Pro stands and mounts come with a number of different options for use as POS kiosks, check-in devices and much more.
What makes these Apple® tablet enclosures ideal as interactive displays?
These iPad Pro stands and mounts have a sturdy fabrication of strong aluminum that protects devices from damage whether they're placed outside a busy trade show booth or in a retail store on Black Friday. Also, this line of kiosks includes a secure locking frame that prevents theft.
Our selection of iPad Pro stands and mounts comes in neutral finishes to fit in any shop. Offered in sleek silver and modern black, the holders will add a professional appearance to countertop or sales floor.
Each of the iPad Pro stands come in one of three placement options to accommodate any outlet. Need to keep counter space free? Order a wall mount or floor stand to hold your touchscreen POS display.
The Apple® tablet stands have an adjustable design for easier use. Floor stands, wall mounts and tabletop POS fixtures can include a rotating, tilting or alterable height designs to meet the needs of any customer or employee.
These secure electronic fixtures have another option for different businesses, a hidden or open area for the home button. This allows store owners and exhibitors to restrict usage to a single app, keeping onlookers from leaving promotional material.
Order a locking iPad stand for a shop or office environment. Tabletop POS kiosks that quickly flip between the cashier and the customer can speed up transactions. At commercial events, this type of fast moving, interactive presentation can draw in passersby like no other advertising tool. Interested viewers can flip through an electronic catalog at their own pace while being able to focus on what they need. This can also give them a chance to shop and make a purchase. All locking Apple tablet enclosures here are sold with fast shipping and wholesale pricing to properly serve businesses large and small.