iPad Stand Accessories | Charging Stations, Device Storage & Security Fixtures
---
iPad Stand Accessories - Commercial Grade Charging Stations, Locking Systems & More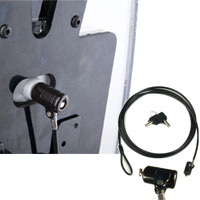 How do businesses using handheld devices for just about everything from inventory management to POS checkout keep them ready for use but secure? The answer is simple:
iPad stand accessories
designed with security in mind. Companies spanning all industries — retail establishments, commercial service businesses, professional organizations, industrial or manufacturing operations and educational institutions — know that the biggest strength and greatest weakness of handheld tablets is their highly portable nature. Android and Apple iPad stand accessories are necessary to protect portable devices when not in use. Locking fixtures, mount fastenings and security grip kiosks offer a great deal of protection, but many businesses use a more "hands-on" approach to in-store tablet use. Commercial or retail checkout, inventory and information apps engage customers and assist staff but many require the app players to be fully mobile and not bolted in or hooked on to bases. Whether a company needs one cable lock to secure a single retail POS checkout app player, a way to safely clamp equipment to multiple fixtures or a multi-device charging station with built-in padlock or electronic security locking system in every office, our commercial grade iPad stand accessories, also known as Android or iPad device add-ons, are designed to increase both functionality and safety in almost any environment.
What kinds of device add-ons are available?
Cable locks are a fast, easy way to secure any Apple or Android handheld, no matter what its size. While the majority of laptops and "full size" tablets are manufactured with a built-in "K-Slot" designed to accommodate Kensington cable locking systems, certain sizes or models require a complete adapter kit for external security tether installation. From ensuring Apple and Android safety in classrooms to protecting retail showroom stand accessories, wire-based safety systems help protect valuable investments from theft in ways that traditional padlock connections cannot.


Device storage is a key concern for businesses that use handhelds without kiosks or mounts. A growing number of companies spanning many industries have issued mobile Apple and Android tablets to managers or supervisors as tools to monitor things as varied as staffing and human capital management, retail inventory levels, real-time project management and course evaluations. Unlike company-issued pencils, calculators or paper notebooks, electronic mobile device storage is more complicated than simply leaving the equipment on a desk or relying on a simple drawer clasp or padlock to keep it safe. Our steel storage cabinets with locks not only protect up to 30 tablets at once, they also allow Android and Apple stand accessories to be recharged while not in use without sacrificing security.


Secure multi-tablet device charging stations with wheels take the worry out of ensuring battery strengths start each day at full strength. Adjustable shelving and steel bolt and panel construction allow these sturdy iPad device add-ons to protect handhelds, and 4-side ventilation holes and integrated power junction strips allow accessories to charge without danger of overheating. The sturdy caster wheels mean that these stations can be used as mobile presentation stations as well as portable device charging docks. For maximum security, each recharging case locks with either a standard key-lock or a RFID-based card locking system.
As more and more industries incorporate handheld devices into their day-to-day operations in roles where traditional security kiosks, padlocks and freestanding or wall mounts may not be appropriate, tablet protection rises to the forefront of operating concerns. Businesses grapple with the problems associated with balancing security and accessibility on a daily pbasis. Retail, educational, commercial and industrial environments also need to ensure that battery levels are maintained to avoid slowing or even stopping workflow. Locking and storage systems are available that meet the needs of all tablet users, from single-device cable hook-and-lock fastenings to multi-unit storage and recharging stations with integrated power and electronic security measures.