iPad Counter Stands without Locks and Locking Countertop Tablet Holders for Commercial Use
---
Counter Holders & Desktop iPad Stands - Locking and Non-Locking Styles for Business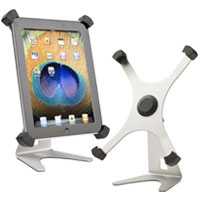 Looking for iPad counter stands for retail, commercial, professional, institutional, and even manufacturing use? These desktop touchscreen display fixtures are great for stores, businesses, schools, and facilities in any industry. High visibility, easy access iPad counter stands, also known as countertop tablet mounts, can be set up like conventional computer monitors or used as kiosks for customer or staff use. With an endless number of Apple® and Android apps available as well as custom programming, tabletop tablet displays can advertise merchandise, tell patrons about services, and act as POS fixtures for both staff and customers, as well as performing in house tasks such as accessing and monitoring inventory, offering fast communication, and ordering stock. Lockable iPad counter stands, like these commercial grade retail tablet stands, are ideal for informing customers with custom branded images, slideshows and video presentations. Non-locking tabletop display display mounts for handhelds can increase business productivity by creating a simple work station for employee access. Commercial iPad counter stands for business, frequently called countertop tablet mounts, are for sale here in an assortment of locking and non-locking styles to meet the needs of any environment or industry.
What types of countertop touchscreen mounts are available?
Locking iPad counter stands for retail feature a lock for preventing device theft. These units are popular in commercial environments as POS fixtures. When placed on a shelf or by a register, these accessories attract customers and serve to merchandise wares and services or provide inventory or wayfinding information. Stores can create multimedia advertising presentations that inform and persuade patrons into making a purchase. Many models of the enclosure feature access to the charging port and audio jack for attachments like speakers and Square card readers.
iPad countertop stands can feature a non-locking design for environments where tablet or application security is not a paramount issue. These are available in with a sturdy aluminum or plastic fabrication that lasts for years. Most non-locking commercial grade tablet holders feature an adjustable design that allows for tilt and rotation for the best possible position. Others have a folding, portable construction that makes them ideal for travel.
Handheld cases feature a simple locking design for protecting valuable electronics from theft. These models include a Kensington security system that utilizes a combination lock and rubberized metal cable. This type of portable counter stand is ideal for employee and staff use in business environments. Cases have a lightweight minimal design that makes them excellent for transportation. For upright positioning, units either include a built-in stand or the locking cable can act as a support.
Tablet holders and stands for countertop displays can include a variety of additional features for different settings. Some device enclosures hide the home button to prevent customers from navigating away from programmed apps. This allows store owners to reduce unauthorized program or device access. Many locking tablet mounts feature a pre-drilled base for creating a permanently mounted POS fixture, register, or interactive information kiosk. Counter stands and mounts are economical fixtures for an assortment of commercial, educational and professional environments.
Where can countertop or desk mounted touchscreen kiosks be used effectively?
Retail and professional environments use countertop tablet holders as POS fixtures that can used as registers, self-check-out displays or can combine both functions by spinning from employee-facing to customer-facing as needed. In addition, employees can increase productivity by using the Android or Apple devices as workstations when not assisting customers. Non-locking desktop holders that allow tablets to be removed at will allow staff to offer sales assistance to customers on the sales floor and not just at point of purchase.
Tablet stands are popular with retail stores and professional businesses to create and showcase digital advertising for merchandise or service offerings. Interactive catalogs incorporated into the sales floor allow customers to search for wares and see related items at their own pace, thereby increasing engagement.
Restaurants use tabletop tablet kiosks as menus, jukebox controllers and ordering stations. During busy hours, visitors can use them to order in advance or sign in to a waitlist.
Schools use these accessories as fixtures in libraries, language or computer labs and even in cafeterias. This type of mount can easily hold learning tools that play videos, show pictures or feature educational games in addition to e-Readers for study guides.
Businesses and service organizations can place these units at front desks to assist and inform customers.
Galleries and museums can replace old tour systems with mounted information stands that educate visitors with interactive displays.
Some countertop holders are made for certain generations of Apple® device. This is important when considering which unit to purchase as only compatible tablets will fit into the enclosure. Additionally, some models support Android devices and e-readers. Each of our 1000s of tablet enclosures offers detailed specifications to help make the buying decision as easy as possible.