Android Tablet Stands fit Google, Samsung, Microsoft, Amazon & Apple Devices
---
Tablet Holders & Stands for Samsung Galaxy, Google Nexus, Microsoft Surface, iPads & More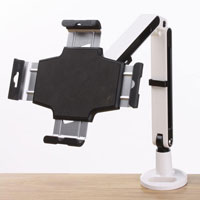 Are you looking for Android tablet stands for commercial business, trade show or retail store use? Many operations choose to implement these competitively priced handheld alternatives to iPad devices to take advantage of flexible programming capabilities. Our commercial-grade Android tablet stands, economnical handheld holders are designed to fit a variety of touchscreens, including the Google Nexus, Samsung Galaxy, Microsoft Surface, Amazon Fire, and even various Apple iPads. These fixtures are designed for use in indoor locations such as retail stores, professional and service businesses, libraries, schools, industrial/manufacturing environments, and trade show booths. iPadHolders2go.com offers business Android tablet stands, also known as touchscreen device display mounts, in a variety of styles including counter/desktop, free standing, and even wall mounting configurations. As more and more manufacturers, software, and operating system alternatives to iPad devices enter the marketplace, digital display systems are becoming available that accommodate multiple touchscreen models. From information and wayfinding kiosks, to wall mounted checkout or ordering stations, to multimedia advertising displays, our interactive mounts, brackets, and holders offer the best in touchscreen accessibility, visibility, and device security.
What are some of the features of these touchscreen device display mounts?
Android tablet stands are available in floorstanding, wall, or countertop holders to best suit floor and counter space needs.
Fixed device enclosures are compatible with Gen. 1, 2, 3 & 4 iPad Air, Samsung Galaxy, and Google Nexus products as well as eReaders and other models.
Bracket style touchscreen tablet stands offer universal compatibility with almost every device size and model.
Locking or non-locking touchscreen device display mounts and enclosures are available in all styles to meet accessibility needs.
Like those for iOS/iPad, other operating system holders offer durable steel and silicone construction for durability and stability in high volume, high traffic areas.
Most commercial handheld device mounts offer styles that can allow or block Home Button functions to eliminate unauthorized program or app use as well as reducing the chance of tampering or theft.
There are several reasons that tablet stands — for any device model or operating system — help business operations generate new sales or revenue. Aside from providing customers with an interactive experience, touchscreen device display mounts and holders can allow direct access to additional services that increase both satisfaction and knowledge. Restaurants, for example, frequently use an iPad or other handheld device as a drink or food ordering device. In addition to reducing staff load, this type of use can be a positive experience for patrons who are waiting to be seated for a table or for busy bars and bartenders. With the option to fit the tablet holders and cases to Samsung Galaxy, Google Nexus, Microsoft, and Lenovo devices as well as Apple touchscreen, the possibilities for presenting information and direct customer use are almost endless. Locking mounts install easily on desks, counters, or walls as needed. Freestanding touchscreen device display stands allow customers to interact with digital services or learn more about your business and products without leaving the sales floor or trade show booth. Depending on programming and specific locations, both locking and non-locking options are great for high-traffic areas like malls and shopping outlets as well.
Being able to safely display touchscreen devices is not only a smart business move, it also encourages direct customer interaction and increases engagement. Many service and retail operations load tablets with promotions, coupon codes, new products or upcoming sales to encourage return business or in-store ordering. Adjustable or portable touchscreen device display stands and enclosures are perfect for moving from one location to another on sales floors as well as at offsite events or trade shows. The soft padding on the brackets prevents device damage as well as allowing a single enclosure to accommodate a variety of models.
Creating a more efficient, organized and technologically advanced work space is made easy by adding commercial grade touchscreen device holders to office or retail space. Single and multiple device mounts function equally well as workspaces or digital advertising and marketing kiosks. Most freestanding and countertop enclosures offer cable management systems to keep cords organized and out of sight. Whether designed to allow free access or locking to prevent theft and damage from coming to any device, our versatile selection of touchscreen enclosures, stands, and brackets includes interactive display fixtures to accommodate the needs of commercial, professional, and institutional businesses and organizations.