iPad Air Stands are Commercial Grade Apple Tablet Display Fixtures
---
iPad Air Stands - Device Display Mounts for Counter, Wall or Floor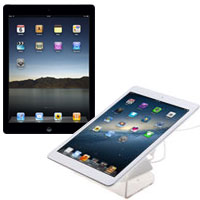 Did you know that as of its release date the Air2 was the thinnest tablet in the world? Our specifically designed iPad Air stands are intended to take advantage of the special features that set these devices apart from the competition. Of course, the majority of our versatile mounts can also be used with other handheld devices for maximum usability, especially for non-commercial device displays. Commercial-grade iPad Air stands for business users generally incorporate one of more security features, such as locking enclosures or integrated cable locks. While manufactured using the same materials and conforming to the same high standards, device displays intended for home or personal use tend to feature designs that favor ease of accessibility over hardware protection. Commercial quality iPad Air stands, also called eReader or tablet holders, come in a full variety of sizes, styles and configurations, all of which offer varying usability features and options. Finding the right mount is a matter of determining the most important factors (whether those are usability, ease of access, price, data security, finish color, loss prevention, portability or others) and choosing the model that best fits those needs.
What are the most popular styles of eReader & tablet holders?
Countertop iPad Air stands include both locking and non-locking enclosures. Fixture styles range from simple convertible counter/wall handles to sturdy bolt-on desktop in-store handheld installations that flip from one side to the next for both customer and staff use. Construction materials include lightweight plastic, stylish aluminum and durable steel. Device display designs for these eReader & tablet holders are, depending on the model, well-suited to residential use, to showcasing commercial or retail apps, or for use as customer service or staff accessories.
Clip-on or clamp bases combine the best countertop functionalities with easy portability. This type of mount is perfect for business users who need to use their hardware in different locations: in a home office, in a business office, on the sales floor, at a client location, at a trade show, on vacation or while traveling. Moveable bases create stable device displays wherever, and whenever, they are needed.
Floor standing iPad Air display fixtures without locks make ideal accessories for home use as recipe holders, media players and much more. Commercial kiosk styles can include multiple locking systems such as padlocking enclosures, cable lock attachments or even special security fasteners that require specialized tools for installation and removal. Floor standing device displays range in height to accommodate activities including watching movies on a couch, showcasing wayfinding information in a lobby or hallway, checking inventory on a sales floor, serving as a music or recipe stand and creating a design-your-own meal while waiting for a restaurant reservation. Kiosks directed at business users also frequently incorporate graphics mounts for advertising posters, messaging or other collateral in order to maximize visibility.
Wall-mounted in-store handheld device displays are best suited to commercial use, as they are the least portable style of eReader or iPad Air stand. Very similar to countertop enclosures, the majority of these vertically mounted kiosks feature locking cases that eliminate potential tampering, theft or unauthorized access. This type of installation is ideal for allowing business users to check in or out of restaurants, hotels or appointments, to showcase retail apps for locating or ordering. Durable materials allow in-store handheld devices to withstand 24/7 use. A variety of styles, from articulating arms that extend the device reach to space-saving flat-panel style permanent installations, create mounts that turn walls into valuable information or transaction terminals for business users.
Because the newest Apple devices are thinner and lighter than other handhelds, eReader & tablet holders for these machines need to take that into account to maximize usability. Choosing the right case or enclosure makes a huge difference in performance and security, especially in commercial situations where operations requirements eliminate Home button or charging port access. On the other hand, many companies need their customers or employees to have free access to all installed or specially designed retail apps, and so require either full access or convertible enclosures. As handheld devices in workplaces, schools, professional and service environments become more and more the norm rather than the exception, companies must find device displays that not only match existing needs (and hardware) but can also keep up with future developments.
Commercial and retail apps have come a long way from the simple slideshows of the past. Industrial managers use tablet computers to monitor employee hours and keep project managers updated in real-time. Galleries allow customers to watch works-in-progress as well as complete checkout procedures without ever stepping near a cash register. Retail store employees - and even shoppers - can instantly check inventory levels or confirm pricing without waiting for someone else to assist them. Hotel or restaurant patrons can check in, order and check out at their leisure. The ways in which business users utilize newer technologies are constantly evolving, as is the hardware used, and the device displays that support them. Our floor standing kiosks, wall mounts and countertop fixtures abound are designed to meet the widest possible range of home, business and institutional uses.