iPad Mini Holders for Counter, Wall Mount & Floor Standing Small Tablet Displays
---
iPad Mini Holders - Enclosures & Stands for Small Android & Apple Tablets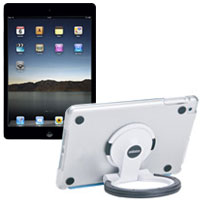 Are you looking for iPad mini holders? As tablets grow increasingly smaller and smartphones increasingly larger in size, the need has grown for secure POS enclosures, kiosk stands and security wall mounts designed specifically with smaller devices in mind. Our commercial-grade iPad mini holders come in a variety of styles that are perfectly suited to business, retail and commercial displays. Point of sale checkout, monitoring in-store inventory and showcasing digital media are only a few of the many uses for these small Apple or Android mini device displays. Locking kiosks, security wall mounts and docks, and locking floor stands are some of the many available mounting styles. Consequently, commercial grade iPad mini holders, also known as mini tablet display stands, are designed to take full advantage of the devices' capabilities in business environments. Add in the finish colors designed to complement any environment and the security features that adapt to any situation and these versatile kiosks and enclosures can make a huge difference for efficiency and satisfaction in commercial usage as POS fixtures or kiosks.
What kinds of Apple or Android mini stands, kiosks and enclosures are available?
Wall mounted holders are perfect for use as retail or commercial kiosks because of their ease of accessibility and security. Locking enclosures ensure that the Apple devices remain fixed inside the tablet mounts. The user friendly designs allow the small size tablet displays to tilt and rotate as necessary. While some styles leave the Home button accessible to customers, others are designed without Home access to eliminate unauthorized program use or tampering.
Freestanding kiosks come with a full selection of tablet mount options, from simple holders designed for hands-free app displays in showrooms or lobbies to permanently installed floor standing wayfinding or information centers strong enough to withstand 24/7 use in high traffic areas. Enclosures with security locks protect Android and Apple devices from tampering, unauthorized access or theft in even the busiest environments.
Many desk or counter-mounting styles for commercial use feature locking enclosures that swivel or "flip" easily from one direction to the next, allowing them to literally do double duty as information kiosks and POS checkout stands. Desktop mounts for business or office use feature stable bases that are sometimes weighted for additional stability, while models intended for retail or other commercial use can be permanently attached to counters using mounting hardware. Home button access can be blocked as needed, either by choosing an enclosure without accessibility or by inserting special plugs to eliminate port and button access.
Small size tablet display podiums are intended for use as accessories for public events of all kinds. From trade show demonstrations to political or commercial speech-giving to religious orations to simple public speaking, these stands allow speakers easy access to notes, presentations and digitized materials. The tiny steel or plastic holders are designed for maximum visibility and mount above the reading surface. As with other styles, podium app player mounts are available with a variety of different security options to ensure safety and control access in any situation.
Clamp mounts are primarily used to attach devices to desks and counters for hands-free use. In addition to the clamping base, these holders incorporate enclosures that securely hold the Apple or Android displays in place. The easy to use stands can be moved quickly from one location to the next as desired, and feature flexible or articulating arms, depending on the model.
Cradle-style iPad mini holders are sometimes called "universal tablet stands" because they can hold almost any size device. These are the simplest stands and while they can be readily secured using cable-style locking devices, they are ideal for on-the-go use. These small size tablet displays are most commonly used on desk, table or countertops but depending on the specific design, can easily be hung on walls or other vertical surfaces for additional hands-free use.
Tripod-style tablet mounts are also near-universal in the size app player they will accommodate. Highly portable, this counter-mounting style generally features a tray-type design to hold devices in place. Because there is no actual "enclosure," these mini holders can be used with a variety of different handhelds from Apple® and other manufacturers.
Whether lightweight and portable or permanently installed, secure mounts for smaller handhelds need to ensure that the app players offer protection for both hardware and sofware in high use environments. Easy to access stands with secure, tamper-proof enclosures for commercial applications are only a few of the 1000s of different models, sizes and finishes offered here.