Multiple Device Charging Stations for Businesses, Schools, and Universities
---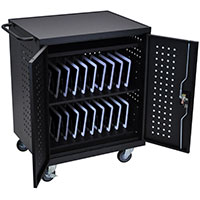 Charging Stations for Multiple Devices - Portable Docking Systems with Adjustable Shelves
What is the best way to maximize tablet use in business, retail, and educational settings? We strongly recommend multiple device charging stations for powering up smart technology when many computing and media instruments are used at once. These iPad tablet dock systems charge up to 32 devices simultaneously, including Chromebooks, laptops, and tablets. These charger kiosks are the most efficient way to see that touchscreens and portable computers are ready to go when the work day (or evening) begins. These commercial multiple device charging stations, also known as iPad tablet dock systems, include interior shelving and slots that will fit myriad sizes of smart technology.
These multiple device charging stations are multi tablet organizers that help maximize touchscreen technology and save time. This iPad tablet dock system organizes, powers, protects, and transports expensive smart phones, interactive touchscreens, and computer laptops in commercial venues. Each of these multiple device charging stations, wheeled docking stands, feature locking cabinet doors to ensure valuable items are safe. Floor standing iPad tablet dock systems have locking wheels and a host of other features to enhance the experience of owning tablets, and support large organizations with a lot of staff. Models that store fewer touchscreens are available in desktop or wall mounted formats, when a smaller footprint is desired in stores or offices with less space.
What special features do these iPad tablet dock systems have to recommend them for use in professional environments?
Ultrabooks, Notebooks, Chromebooks, and laptops are compatible with these multiple device charging stations that are great solutions for users who rely on myriad technology platforms for business. Slots with laser-cut ID numbers make it easy for users to identify their gadgets.
Integrated cable management, USB power ports, power strips, adjustable pullout shelves, drop leaf sides, locks, LED power light indicators, pre-programmed RFID card readers, 4-sided ventilation, alternate digital power distribution, slide-open, and no-slip padded flat surfaces for holding charts make this a highly functional stand.
Smart technology charge systems are available for countertop, wall, and floor mount. Free-standing docking caddies have rolling caster wheels, two of which break and lock in place to keep the storage area stable when in use. It will largely depend on use and space configuration which of these mounting choices are made.
Tablet stations store and charge from 8 to 32 units at a time, so whether you're a small store or office, or a large corporate or medical facility, there is a cabinet to suit the needs of your business or organization. Not only does unit help staff save time, but it ensures a seamless work day collecting data or giving presentations.
Most multi tablet organizers can ship same day when in stock if they ordered before 2 p.m. EST M-F, and technology trollies ship unassembled to save on costs. Stands are shipped with parts, clear, easy-to-understand instructions, and in some cases, the very tools needed to assemble them.
Media storage stands are made of durable materials like metal, steel, hard plastic, and wood grain to suit office or corporate, medical, and educational environments, in an array of colors to suit every décor. A well-designed unit with sturdy construction ensures it will last through frequent use, and thus it's a great investment.
Mobile laptop holders should be easy and comfortable to operate; ergonomic push handles make these cabinets easy to roll through corridors and hallways whether at a convention center, in a hospital, or in a school. No more aching hands or wheels that stick and hold you up! Where promptness is important, these reliable wheeled stands are always at the ready.
Mobile AV trolleys make it easy to transport a lot of equipment at once, which is especially helpful in large organizations such as schools, hospitals, medical labs, government offices, retail showrooms, and corporate environments where there will be many users. Portable charging stations for tablets protect devices in transit - and secure the contents when stationary with strong pad- or conventional locking systems. Power up iPads with these mobile charging cabinets overnight so devices are ready for use in the morning when doctors, nurses, and other technicians come to work. Ensure business men and women their media will be ready to go when they arrive at work in the morning. These quality chargers for tablets are also an excellent choice in large retail environments where staff can share one unit. Busy educational environments are perfect places to use this multi tablet organizer, especially when touchscreens are being handed out to a large group of students to enhance visuals during a lesson. These charging stations free up teachers to spend more time one-on-one with their students and less time on maintenance issues. Power up Chromebooks, laptops, and touchscreen tablets in advance of the class beginning, so teachers can begin the lesson plan on time. Different apps and supporting slideshows can be used to best effect when instructors aren't worried about losing power in the middle of a presentation.
When considering the purchase of a projector cart, start with price point. Baseline options exist to help organizations stay within a budget; more expensive models are worth the extra bells and whistles for larger organizations with more devices to power. Next, figure out how many slots the charging station will need to have; sometimes the size will determine what style mount the cabinet should have. A large dock system with many dividers, a padlock or traditional lock, and breaking/locking wheels works best for hospitals and medical facilities because units will be wheeled from room to room. Countertop and wall mounted charging stations are great for cosmetic counters in malls, medium-sized boutiques, and office scenarios where a few staff members use touchscreens to conduct daily business and sales activities. All the tablet organizers featured here provide security, storage, and mobility, not to mention uinterupted use of smart technology computers. A multiple device charging dock for electronics keeps expensive technology safe during transit, and locks ensure it won't be stolen when you step away. Schools, retailers, and offices can maximize their use of technology exponentially using these Bretford and Luxor carts that keep devices charged all day long.